Logging insurance helps keep your business on the cutting edge.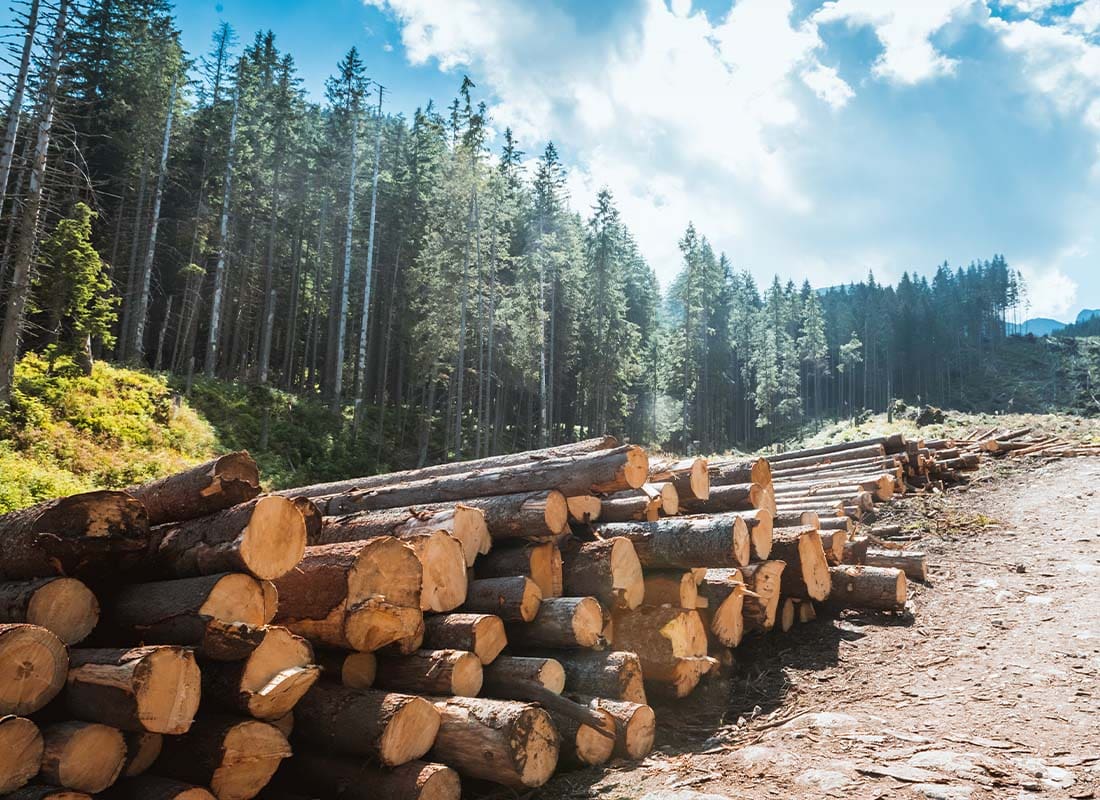 Help protect your business from the risks you face with logging insurance.
Your business is all about your equipment.
Logging requires a lot of specialized equipment to run properly, including skidders, feller bunchers, loaders, and more, and that equipment is often in transit between areas on your job site or stored away from your business location. Inland marine insurance may help protect your specialized tools and machines. What if your equipment suddenly stops working due to accidental physical damage? You'll want to have systems breakdown insurance, which may help protect you from a loss if you find yourself suddenly unable to use your necessary equipment.
There are a lot of vehicles needed for logging.
As you know, logging requires the use of a number of different vehicles, whether you're using them to help cut the trees or using them to transport logs, mulch, and pulp. No matter what, if you own the vehicles being used for your logging business purposes, you'll want to have business auto insurance. It may cover your vehicles if they're involved in an accident while undergoing company business, making it an essential part of your logging insurance policy.
Logging is a dangerous business.
You know better than anyone how dangerous logging can be for your employees. With all of the heavy equipment, sharp saws, and massive logs, there's a risk for injury everywhere on the job. If one of your employees gets hurt while working, you'll want to have coverage with workers' compensation insurance. Not only can workers' compensation insurance help your employee through a difficult time while they heal, but it may also help protect your logging business from potentially disastrous lawsuits.
Logging comes with environmental concerns.
For the past several decades, the logging industry has been gaining attention and scrutiny for its environmental impact. Having an additional environmental insurance policy with your logging insurance coverage may help protect your business in the event of accidental pollution or other environmental damage, helping to cover the costs of clean-up, defending claims, and the like. In a time where the logging industry is under scrutiny, it can also be a good public relations move to have an environmental insurance policy since it shows that you recognize the risks your business poses to the environment and that you're listening to professionals on how to avoid them.
  Does your logging business need insurance?
Your business supplies the world with timber for building, pulp for making paper, and forest management. Yet all of that comes with its own unique risks to your logging business, which is why it's important to have logging insurance coverage in place.
The business side of your logging business.
There are a few basic coverages that should be a part of any logging insurance plan. General liability insurance is important to cover a wide range of potential risks that face your business. For example, someone could wander onto your job site and injure themselves. You might be liable for that injury. You will also want to look into a cyber liability insurance policy. Even though logging is a centuries-old industry, that doesn't mean it hasn't gone digital to keep up with the times. Cyber liability insurance may help protect your business in the case of a hack or data breach.
Want to learn more about logging insurance for your business? Contact us to get started.
Step 1

Fill out the form.

Step 2

Review your options with us.

Step 3

Get the coverage you need.
Logging Insurance Quote Request
"*" indicates required fields